The village of Craghead was originally part of the Parish of Holmeside, but for a time had its own council before becoming part of the Stanley Urban District.
Two well known colliery owners, the Musgrave and the Hedley families were largely responsible for the development of the mining industry around which the village grew.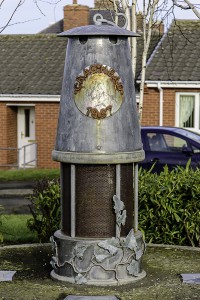 As with the other places around the area the early 1800's saw a period of rapid expansion. As the coal industry grew so did the village. In addition to the increase in housing the amenities, such as shops, churches and hotels followed. Above the Craghead Co-operative Store there was a cinema known locally as the Penny Gaff.
The village still has a cricket club, golf club and a very well known brass band with its history going back to the hey day of the collieries.
Michael Heaviside
Michael Heaviside was was a hewer at Oswald Colliery. In World War 1, he was a medic in the Durham Light Infantry and in 1917 received the Victoria Cross for his bravery, crawling across no man's land in broad daylight to go to the aid of a wounded colleague who was stranded in a shell hole. More information about Michael can be found here